Alex Pagulayan beats Mika Immonen to win the 2008 PartyPoker.net World 9 Ball Pool Masters
As we begin to approach the end of the year, many people start to reflect on interesting and important events and in 9 ball pool, it was perhaps the 2008 PartyPoker.net World Pool Masters that provided one of the year's highlights for pool fans. In a tense thriller match,
Alex Pagulayan
came from behind to beat Mika Immonen 8-6 in front of a full crowd at the
Riviera Hotel, Las Vegas.
Pagalayan was 6-3 down at one stage in the match and looked to be in real trouble but things turned in his favour after Immonen made an illegal break pocketing a ball but failing to carry two other balls past the headstring.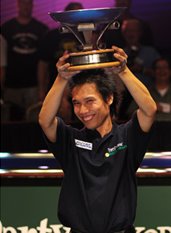 From this point onwards, Pagulayan cleared to table to gain the necessary momentum and gained in confidence during the closing stages to take victory.
"This was like winning the World Championship for me. I've always wanted it but I've finally broken the ice, " said Pagulayan.
"This is 9 ball and I couldn't get too upset because I didn't get a chance. I thought if he runs the set, then he runs the set but I knew that if I got a chance I would need to focus and concentrate and do the best I can. I really didn't think I'd won it until the last 9 ball dropped but there were lots of people who like me watching me and that was good for me to have that support," he added.
Labels: 2008, alex pagulayan, las vegas, world 9 ball pool masters